This is a very rare to find condition d
rivers armoured glass vision block from German Panzer 4 tank fantastic condition.The glass its self is un broken on one side and cracked on the other properly done after the tank was hit.On the side that is undamaged the glass is not even cracked amazing really the metal surround is rusty but solid still with some red undercoat paintwork remains and some yellow sand camouflage paint but the very rare bit is the maker mark and waffen stamp that can be seen clearly in the corner of the glass.The glass block is semi- relic really at worst it has been well cleaned and is perfect for display or any collection it is
 from a 
German Panzer 4 Tank used on all marks.
This block comes with a laminated A5 information sheets with photos this block so rare
 to find from the battlefield in this condition is available for the first time since the war outside of the Ardennes Forest ware it has been for nearly 74 years .This block with other parts were taken from a abandoned German vehicles after the war in the village of Mont which is just North of Houffalize all the vehicles belonged to the 116th Panzer Division.It was taken of the tank properly in around 1946-1948 by a local farmer and was used on his farm for many years not sure for what for to be honest until it was found by a local collector who had them in his private collection until 2018 when they left the Ardennes area for the first time since the war
.This is a very rare relic from the Ardennes Forest campaign during the battle of the Bulge in the winter of 1944-1945.This real bit of tank history from this famous battle which was Hitlers last offensive in the West comes with a A5 laminated information sheet
THIS ITEM IS FREE UK SHIPPING. FOR INTERNATIONAL BUYERS IT IS AT A REDUCED RATE. PLEASE ASK BEFORE PURCHASE.
The 116th Panzer Division, also known as the "Windhund (Greyhound) Division", was an armoured formation that was constituted in the Rhineland and Westphalia areas of western Germany in March 1944 from the remnants of the 16th Panzergrenadier Division, and the 179th Reserve Panzer Division. The 16th had suffered heavy casualties in combat on the Eastern Front near Stalingrad, and the 179th was a second-line formation that had been on occupation duty in France since 1943.
The 116th Panzer Division participated in the failed Ardennes offensive. On the 10th December 1944 in the days before the offensive started it was partly refitted, with 26 Panzer 4 Tanks and 43 Panther Tanks and 25 Jagdpanther tank destroyers (of which 13 were combat ready). However, it was still missing much of its organic transport. Initially stalled by the resistance and then poor bridges in attacks to cross the Our River at Luetzkampen and Ouren it back-tracked to march through Belgium from Dasburg to Houffalize. The division then fought its way as the middle spearhead of the advance on the Meuse from Samree to La Roche. It was then involved in heavy fighting at Hotton and Verdenne, where it was turned back at its furthest advance in the Ardennes. It later held the Allies at bay for other units to retreat, before being withdrawn over the Rhine in March 1945.Its commander was General Siegfried von Waldenburg for the Ardennes offensive and until the 18 April 1945 when the majority of the division was forced to surrender to the U.S. Ninth Army, having been trapped in the Ruhr Pocket.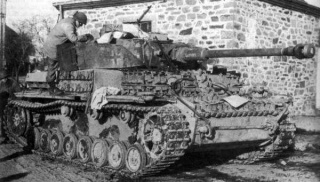 Drivers armoured glass vision block fantastic condition,waffen stamped from German Panzer 4 tank of the 116th Panzer Division recovered from near Houffalize in the Ardennes forest from battle of the bulge winter 1944-1945