This is a Front drive sprocket section from German Panzer 4 tank which been ripped off in an explosion.The section of sprocket which is the outer edge of the sprocket with 1 tooth the section is 5 inches long it is rusty but still very solid it is relic but has cleaned up very well and is perfect for display or any collection and a nice bit of tank from the work horse and most produced tank of the German army in World War 2.The front sprocket comes from the site of a destroyed Panzer 4 tank of 9th SS Panzer Division Hohenstaufen recovered near the village of Camembert from the battle of 20th August 1944 against the Canadian 4th armoured Division in the last days of the fighting in the Falaise Pocket in Normandy.The part comes with a laminated information card with pictures.
Panzergrenadier Regiment Hohenstaufen. The division saw much action defending against British armour during operation Goodwood During operation Jupiter Hohenstaufen destroyed 58 British tanks with many of them being Churchill tanks After the launch of the Canadian operation totalize, Hohenstaufen avoided encirclement in the Falaise Pocket and kept the narrow escape route from this pocket open. By the 21st August it was over, and the German forces were in full retreat out of Normandy. The Panzer IVs comprised around half of the available German tank strength on the Western Front prior to the Allied invasion of Normandy on 6 June 1944. Most of the 11 panzer divisions that saw action in Normandy initially contained an armoured regiment of one battalion of Panzer IVs and another of Panthers, for a total of around 160 tanks, although Waffen-SS panzer divisions were generally larger and better equipped than their Army counterparts. Regular upgrades to the Panzer IV had helped to maintain its reputation as a formidable opponent. Below picture is a panzer 4 tank of the 9th SS Panzer Division.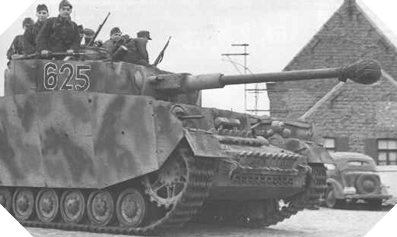 THIS ITEM IS FREE UK SHIPPING. FOR INTERNATIONAL BUYERS IT IS AT A REDUCED RATE. PLEASE ASK BEFORE PURCHASE.