This is a German K98 rifle bayonet scabbard used by a soldier of the 

30th Infantry Division. The scabbard 

still with the remains of the leather frog attached to it is in relic but solid condition it is complete it does have some rust holes but overall in very good,nice condition for a recovered battlefield find .The scabbard was recovered from the area where the German 30th infantry division fought and finally surrendered in May 1945 near the village of Tilti which is south of Derben in the Kurland Pocket the battlefield of 1944-1945. A lovely piece of iconic battle history from one of the most famous pockets on the Eastern Front.
·         The 30th Infantry Division of the Wehrmacht was created on 1 October 1936 in Lubeck and mobilized on 26 August 1939 for the upcoming invasion of Poland. It was to attack in the general direction of the area in front of Lodz. It fought battles in areas of Kalisch, during the Vistula crossing at Warta, also at Kol. Balin, Niewiesz and Uniejew. During the Battle of bzura they suffered heavy losses, including 1500 POWs captured by the Poles. They had to reject violent counterattacks and attempts to escape by the trapped Polish troops. After the Battle of Bzura was over, the division moved north of Lowicz in pursuit of the defeated enemy.On 16 June 1940, the unit conducted a victory parade in Paris. In the winter of 1941 the division was trapped in the Demyansk Pocket along with about 90,000 German troops and around 10,000 auxiliaries. They were then part of Army group North when they were trapped in the Kurland pocket they then come under Army Group Courland and their last commander was Generalleutnant Albert Henze who took command on the 30th January 1945 until the capitulation in May 1945.
The Kurland Pocket refers to the Red Army's blockade or isolation of Axis forces on the Courland Peninsula from July 1944 through May 1945.The pocket was created during the Red Army's Baltic Strategic Offensive Operation, when forces of the 1st Baltic Front reached the Baltic Sea near Memel during its lesser Memel Offensive Operation phases. This action isolated the German Army Group North from the rest of the German forces between Tukums and Liepāja in Latvia. Renamed Heeresgruppe Kurland on 25 January 1945 the Army Group remained isolated until the end of the war. When they were ordered to surrender to the Soviet command on 8 May, they were in "blackout" and did not get the official order before 10 May, two days after the capitulation of Germany. It was one of the last German groups to surrender in Europe. 
THIS ITEM IS FREE UK SHIPPING. FOR INTERNATIONAL BUYERS IT IS A REDUCED RATE PLEASE ASK BEFORE PURCHASE.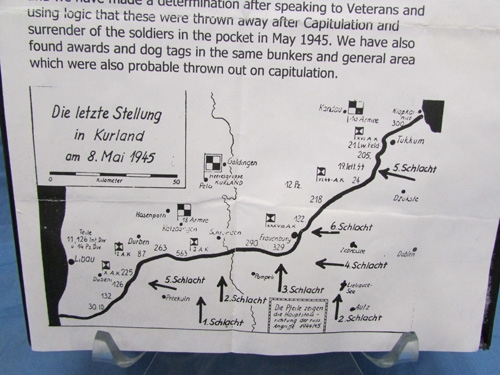 The 30th infantry division on parade in Paris in 1940