This is a large section of parachute silk from one of the crew members parachutes with guide line strings. This rare to find parachute relic obviously it does have some damage from the crash the silk is a dirty white from being buried it is still solid and not braking up of crumbling and a nice size at 39 inches long by 21 inches wide the part is perfect for display or in a collection. The parachute relic was recovered from RAF Mosquito DZ609 on a night raid over Berlin shot down on the 12th June 1944 crashed in Germany. The item comes with a A5 laminated information sheet.
RAF Mosquito DZ609 which was shot down on the 12th June 1944 on raid over Berlin.
Pilot: Fl/Lt. Charles Anthony Armstrong D.F.M. M.i.D. N/Z401368 R.N.Z.A.F. Age 26. Killed
Nav: F/O. George Leonard Woolven 159688 R.A.F.V.R. Age 27. Killed
The plane took off at 23.25 hrs FROM R.A.F. Upwood, Cambridgeshire on an operation to Berlin with 32 other Mosquitoes. Flying the very fast Heinkel 219 flown by Oberlieutenant. Jozef Nabrich and his Bordfunker Feldwebel Fritz Habicht of NJG1 attacked the mosquito at 01.13 hours west of Salzwedel, Germany. Firing two bursts they witnessed the aircraft go down vertically before exploding below the cloud cover at West of Salzwedel in Germany.
Oberlieutenant Jozef Nabrich was killed in his car by allied strafing at Münster-Handorf on December 16th 1944. At the time of his death he had 17 confirmed abschüsse - four further unconfirmed night victories.
Fw. Fritz Habicht was severely injured on the 3/4th February 1945 when his He219 was shot down by return fire from a Lancaster over Roermon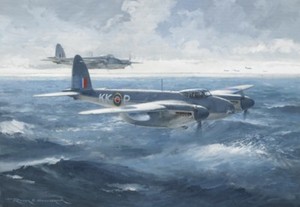 THIS ITEM IS FREE UK SHIPPING. FOR INTERNATIONAL BUYERS, IT IS AT A REDUCED RATE. PLEASE ASK BEFORE PURCHASE