This is a 1915 dated and maker marked on the bottom Canadian soldiers Water Bottle which has impact or battle damage on the top of it the bottle is in nice solid condition and does not have any holes other than the battle damage but also still has the remains of its original cork stopper which is rare also retains its original colour and does still have some mud attached.This bottle which is a very rare find indeed which was recovered in 2016 from the Courcelette area on the Somme battlefield .A very nice water bottle from the famous Somme battlefield in the area ware the Canadians made there name on the Somme and took the village with heavy casualty's. 
The Canadian attack on the French village of Courcelette, during the Somme offensive resulted in thousands of battlefield casualties. Yet, it also signalled the start of new thinking in military tactics that would eventually solve the riddle of the trenches, and help turn the tide of the war.
The Canadians also went into battle with the latest attempt to break the trench deadlock: the tank. Six "land cruisers," as they were then called, entered into history's first major tank battle at Courcelette (an additional tank was kept in reserve). Although slow, plodding and difficult to move, the large and imposing tanks were an effective psychological weapon against the Germans. Each tank was run by an officer and seven men. Also assigned to each tank were five infantrymen tasked with the removal of casualties ahead of the vehicle.
Although all but one of the tanks failed to reach their objectives — either due to mechanical failures, becoming stuck or shellfire ­— they struck fear into the enemy and caused some Germans to surrender at the mere sight of them. Courcelette was captured by the Canadian Corps on the first day of the assault, a rare Allied victory on the Somme, at the cost of several thousand Canadians casualties.
The first three divisions of the Corps continued fighting on the Somme in September and October, suffering about 20,000 casualties overall after weeks of continued attacks and counterattacks. The Fourth Division, fighting alongside British infantry, captured Regina Trench, an important German strongpoint. Canadian casualties at the Somme numbered more than 24,000 by the time the campaign was called off.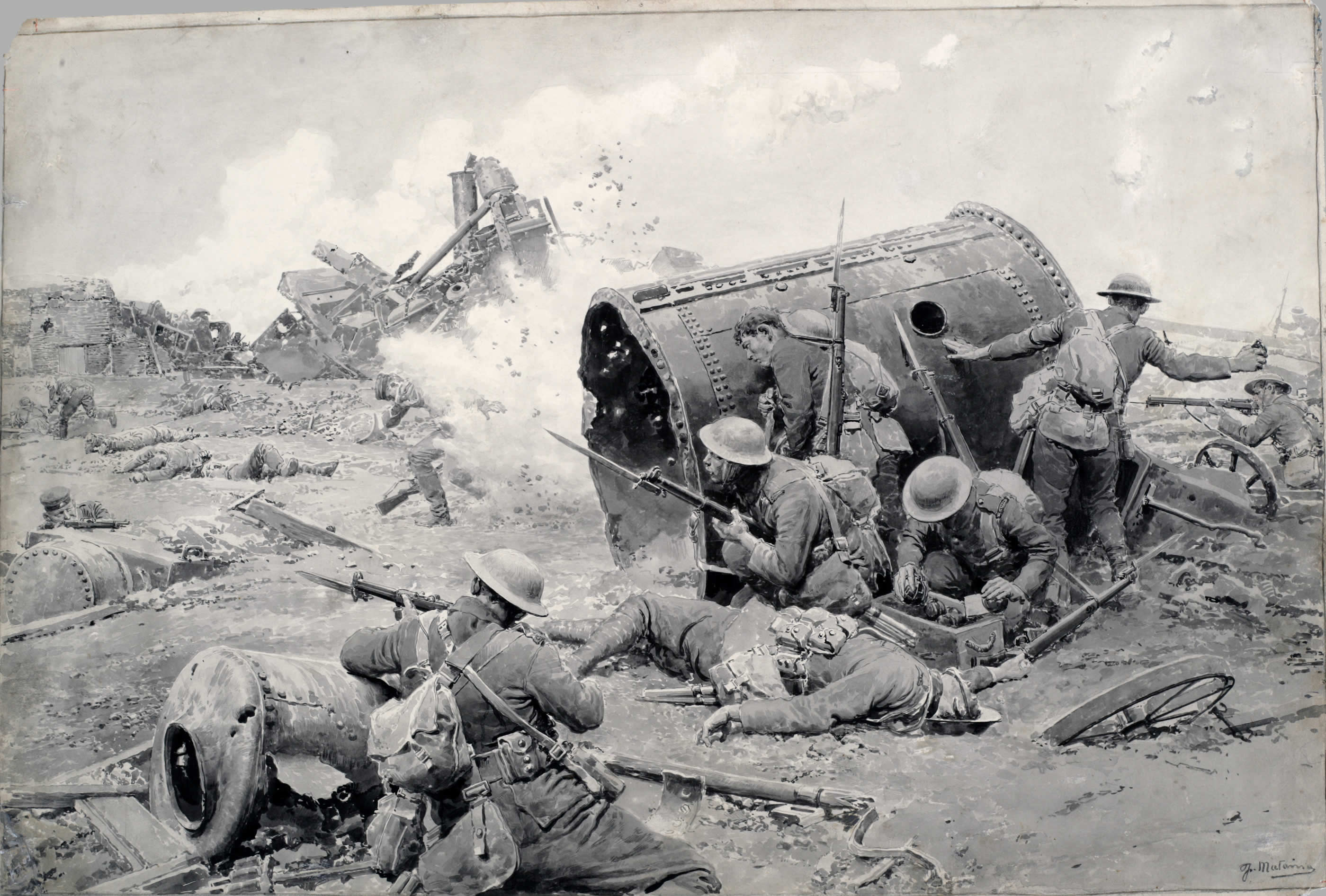 The Canadians at Courcelette
THIS ITEM IS FREE UK SHIPPING. FOR INTERNATIONAL BUYERS, IT IS AT A REDUCED RATE. PLEASE ASK BEFORE PURCHASE.